London, England – November 18th, 2019
The Mother Art Revisited collective is extremely proud to be a part of Sheroes–Revoluciones at Ugly Duck in London, England.  This groundbreaking exhibition will take place from November 22nd – 24th, 2019.
From the Sheroes press release:
(Download the full press release PDFs here and here).
"LONDON, 5th November 2019 – Lon-art present Sheroes–Revoluciones, an art project designed to draw attention to violence against women*. The series will kick off with the Sheroes–Revoluciones exhibition at Ugly Duck on November 22 – 24, providing a platform for artists, survivors and change-makers. 
Sheroes–Revoluciones is inspired by the staggering statistics that show how women are potential and real victims of violence in our society (domestic abuse, rape/sexual assault, revenge porn, gender pay gap among others): – 1 in 3 women (worldwide) have experienced physical or sexual violence in their lives.** – 2019 (UK) 1,300,000 women suffered domestic violence*** – 2017 (UK) 139 women died as a result of male violence**** Sheroes–Revoluciones aims to visualise this social issue, using the arts to express, reflect, prevent and heal involving different social agents. 
The Sheroes–Revoluciones exhibition on November 22 – 24 will include 30 female artists who will share their artwork and stories about topics including domestic violence, female objectification, motherhood, rape, FGM, sex trafficking, tech violence. Working across performance, crafts and visual arts in a range of media, artists include Maria Maria Acha-Kutscher, Rachel Gadsden, Rachelle Romeo, Michaela Haynes, Farnoush Amini and Chicago-based collective Mother Art: Revisited."
______________________________________________________________________________
EXHIBITION: re : birth – Members Show | Spilt Milk 2019
Edinburgh, Scotland – September 28th, 2019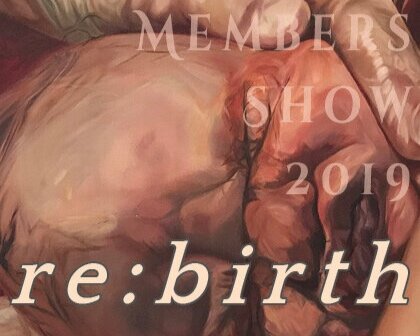 The Mother Art Revisited collective is thrilled to be a part of re : birth – Members Show with Spilt Milk Gallery in Edinburgh, Scotland.  This second annual exhibition will take place from September 28th – October 12th, 2019.
From the re : birth press release:
"This year's theme;  ('rebirth' or 'regarding birth') has resulted in a diverse collection of work across all media forms exploring representations of birth and the maternal body, contemporary narratives of the mother and child relationship, abstract reflections on the domestic realm as well as work exploring adoption, loss and the cycle of life.
Our poster image features Josie McCoy's 1997 painting 'The Birth' inspired by the cover of Chumbawamba's 1994 album 'Anarchy' which was subsequently banned in several countries for being too explicit. Imagery of birth, breastfeeding and artwork which explores representations of the female body are still continually censored or removed from social media. This exhibition not only challenges the censorship of the maternal experience but presents an honest and multifaceted account of what it means to be a mother in today's world. The intimate fleeting moments, the fear and anxiety, the physical demands and the shift in identity; this exhibition is a powerful testament to the birth of a mother.
As part of the exhibition, and recreated specifically for re:birth, we will also be presenting 'Interruptions' a multi media installation by Mother Art Revisited, an American and Canadian collective of women artists dedicated to creating socio-political art."