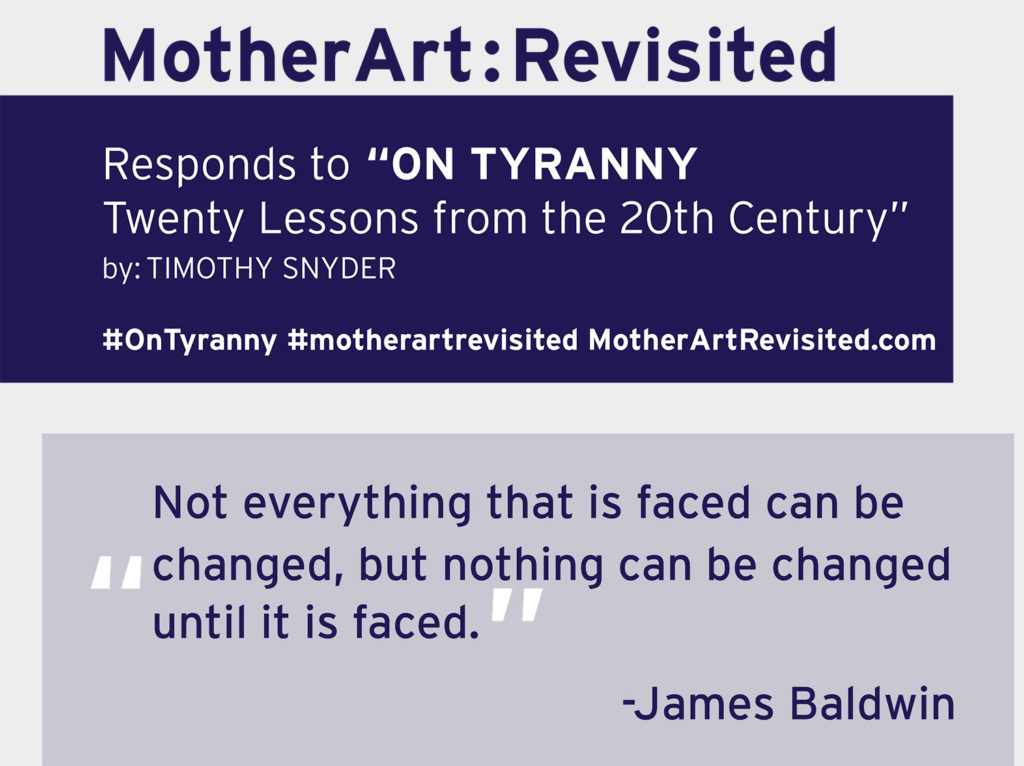 A Letter …
About 8 months ago, Timothy Snyder appeared on several evening talk shows to discuss his new book, an important, simple and interesting read: "ON TYRANNY" 20 Lessons From the 20th Century".
Timothy Snyder, Yale history professor, is a scholar on tyranny, known throughout the world.
His discussion began with the fact that history is there for us to learn from, in this case, to learn how to protect and keep our democratic republic.
This little book, and the lessons that Professor Snyder presented hit me directly, and it made me want to respond, to scream these lessons to the world.
I presented the concept of responding to "On Tyranny", to an art collective that I belong to, Mother Art: Revisited. Mother Art: Revisited, based in Chicago, comprises an international art group of mother artists.  We are all graduates of the LowRes MFA Program, at the School of the Art Institute of Chicago.  
We communicated across the country through the ZOOM platform, and we  began to put our ideas together and created a vehicle for our response to Tim Snyder's call to action.  Together we created a group collaboration, THE POSTCARD PROJECT.  Each artist who chose to participate in this 'action', was randomly assigned a chapter, a lesson from the book.  The artists were asked to respond through their art to the lesson assigned to them. Gathering the artwork, printing the postcards, distributing the cards, and then documenting the sending through the US MAIL, these little jewels, these art postcards, inspired by "ON TYRANNY".
IF you are receiving this package, YOU have been an inspiration in the development of this project by one or more of us, and we wanted you to have a set of the postcards.  We hope you will continue to spread the lessons learned through this little book, and the knowledge that our freedom and our democracy requires our Attention and our Participation. 
In Peace & Freedom
Patricia RAIN Gianneschi
In collaboration with MotherArt: Revisited