July/August 2019: EXHIBITION: Interruptions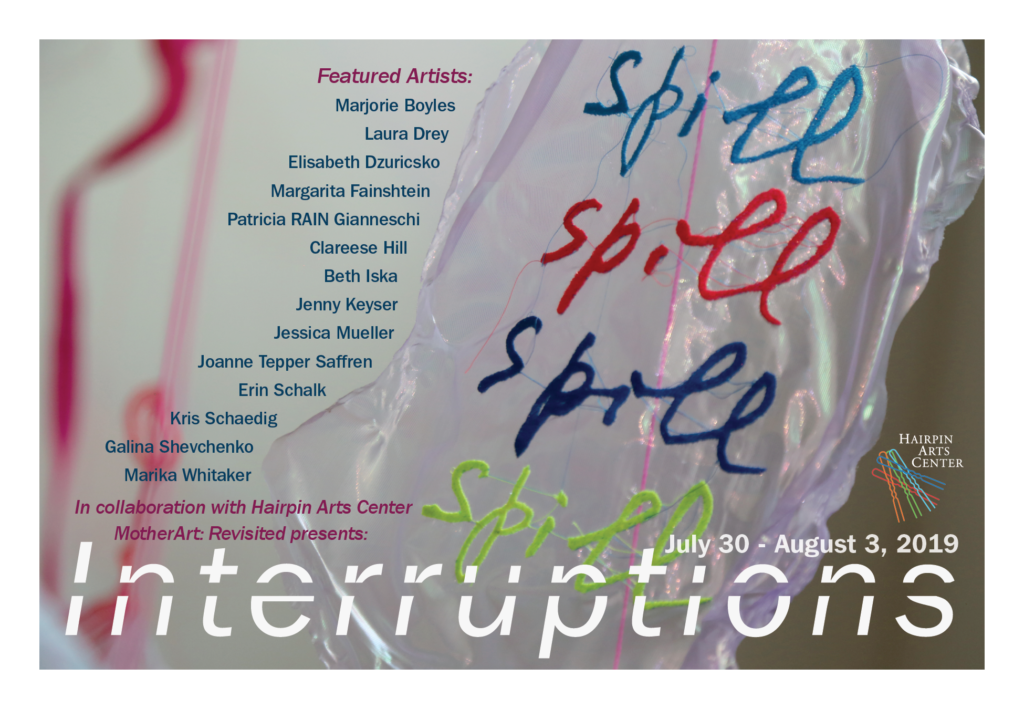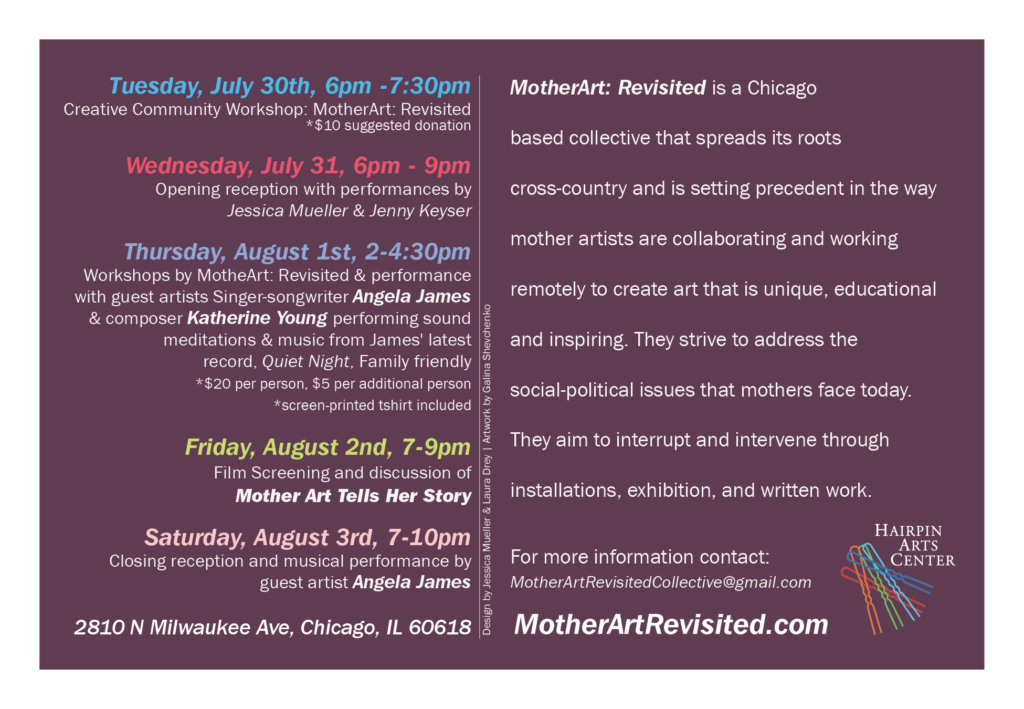 CHICAGO, IL – July 13th, 2019
Mother Art Revisited will have its second major group exhibition at Hairpin Arts Center (2810 N. Milwaukee Avenue) in Chicago.  Please join us for the opening reception on Wednesday, July 31st from 6 – 9 PM, as well as our workshop, performances, and screening.
MotherArt: Revisited is a Chicagobased collective that spreads its roots cross-country and is setting precedent in the way mother artists are collaborating and working remotely to create art that is unique, educational and inspiring. We strive to address the social-political issues that mothers face today. We aim to interrupt and intervene through installations, exhibition, and written work.
For frequent exhibition updates, see our Facebook event page.
______________________________________________________________________________
March 2018: PRESS RELEASE
Mother Art is back! A new generation of Mother Art is making waves and these mothers insist on being heard.
CHICAGO, IL – March 14, 2018 –Mother Art, a collective of mother artists formed in the 1970's, served as a platform to highlight the social and political issues that mothers faced. Unfortunately, these issues continue to be relevant to a new generation of mothers. As a result, during the summer of 2017 a group of artists from the School of the Art Institute of Chicago's Low-Residency MFA program came together to form Mother Art: Revisited. "As mother artists we strive to represent and support mothers' voices through art", said Jenny Keyser a Mother Art: Revisited member.
Recently, the Mother Art: Revisited collective showed their first collaborative installation at "Collaborative Collisions" a pop-up exhibit at C.C.'s Art Gallery and Garage in Chicago. Their installation, "Interruption", features work that focuses on interrupting the status quo. "We are very encouraged with this first installation and look forward to creating many more "Interruptions" to amplify the individual mother's voice", Jenny continued, "as a collective we bring diverse approaches and perspectives toward protecting women's health and livelihood".
The piece includes a wall-size video projection of a running washing machine and clothes-lines from which individual Mother Art pieces hang that reference the title "Interruption". In addition, there is a spoken manifesto and a mother's voiced concern playing on a loop. The installation creates an immersive experience that draws the viewer in to the voices represented.
Mother Art: Revisited strives to interrupt and intervene through installations, exhibitions and written work. Look for a collection of Mother Art: Revisited poetry to be unveiled this summer.